Irrigation
| Irrigation Company

Tired of wasting your time and money? Have you ever considered an in ground sprinkler system? Tompkins Landscape and Irrigation is this area's leader in installation of all types of irrigation systems. We guarantee the longest system warranty, best pricing and service available, guaranteed. We offer free estimates on all sprinklers
Installing a sprinkler system will pay for itself just in the money you save on conserving water (when watering by hand, 50 percent of the water used is lost by runoff, evaporation, not to mention installation of a separate deduct water meter). In times of watering bans or restrictions, sprinkler systems can be programmed to run late at night or early morning when water evaporation is at its lowest.
We ensure our customer's a quality product installed by trained individuals who are skilled and knowledgeable in irrigation installation and system design requirements. In short you will get a high quality product, at a competitive cost, installed in a timely manner, with the longest most complete system warranty available. All system materials are the best in the industry and feature the most advanced features today.
Our first system was installed in the summer of 1994. Most of our veteran irrigation designers and installers have been with the company since that first system, every year our designers and installers still attend "refresher" courses and must pass a test each year. Younger employees are required to pass in-house training and testing before being offered full time employment.
All designers worth their weight in plant material know that the health and longevity of a landscape depends on proper irrigation.  However, many of them have not been so successful in translating that knowledge into irrigation system designs.Adding irrigation has become second nature in order to guarantee a great landscape, you've got to have adequate water. It's become just about standard with every landscape design or installation today that it includes a sprinkler system. 

Another reason for automatically including irrigation designs is to market it as an insurance policy. Because 90 percent of plants die due to improper watering, the benefit to customers is the long-term insurance that their plants are properly irrigated. In addition, an irrigation system may reduce homeowners' water use and save them money. The benefit to the contractor is a decrease in warranty claims – as most installers warranty their plants for one year.
Contractors need to schedule a spring start up with their clients' irrigation systems, performing a detailed system run-through to target leaky valves, incorrect head placements or any other problems that lie unnoticed under a blanket of snow. A brief devotion to pre-season maintenance will guarantee system functioning all summer long. It only takes about an hour to get a system up and running and to ensure proper coverage, reduce water loss thereby reducing costs over the summer months.
Evaluating Contractors
It seems many of you are interested in irrigation but are uncertain as of how we install the system and how this is going to affect your existing landscape. To hopefully shed some light on this situation we have produced our second newsletter and it is dedicated to the irrigation installation process.
When choosing a contractor, don't just choose the one with the lowest price. Take the time to find a contractor with a competitive price and a good reputation. Your system will require service from time to time and you want to be sure your contractor will still be in business five years from now.
Look for a contractor who promptly returns phone calls (especially during a busy season), knows the product and presents himself in a professional manner.
Insist on getting a certificate of insurance from your contractor that says he has both liability and workers comp. Your homeowner's policy does not cover people you hire to work on your property. In the event of an accident, you, the homeowner, could be put in jeopardy of suit if the contractor you hire does not have insurance and one of his workers gets injured on the job.
Be sure to compare apples to apples. If you have one contractor who says he will do the job with 20 sprinkler heads, and another who claims he can do it with 16, be careful. Not to say that 20 is the right number, but I would be suspect of the 16-head bid. Many contractors stretch the design to win a bid and in July and August when it gets hot, the 16-head systems show its true colors with burned spots in the lawn.
If designed and installed properly and with quality product, a sprinkler system will give you many years of service and value with minimal maintenance.
Ask for references. Your contractor should be able to provide you with the names and telephone numbers of references for you to call. You should feel confident that the contractor you choose can provide you with excellent service no matter what time of year.
Make sure the contractor is installing a backflow-preventer approved by the local plumbing inspector and/or water department. Also, insist on a rain sensor so that your system is not operating while it's raining.
Examine the product the contractor plans to use. Most manufacturers produce competitive, comparable products. However, some also make inexpensive items. If it looks cheap and flimsy, it probably is, and that's the way it will work.
Many contractors use two or three different brands of product on the same system. The reason for this is that they want to install what they feel is the best quality product and what they feel comfortable with. Most manufacturers don't produce a complete line of quality items for a complete system. You want the best product each manufacturer makes.
The contractor should give you a written bid. That bid should describe the product to be used and the quantity of each, at least on major parts such as sprinklers, valves, and controllers. The bid should also give you an estimated start and completion date. All preparatory and finish work should be included.


Will an automatic sprinkler system use more water than I'm currently using?
No. In fact, it will conserve water. The system's controller and rain sensor will be set so you receive only the amount of water you need. You will not over-water or under-water your lawn with an automatic sprinkler system.

Does having a sprinkler system really save time?
Yes. You won't have to spend another minute of your valuable leisure time watering the lawn. Whether you are home or away your system will do the watering for you!

Will automatic sprinkler system water as well as I can water by hand?
It will do a much better job because a professionally designed system will deliver exactly the right amount of water to individual lawn and garden areas.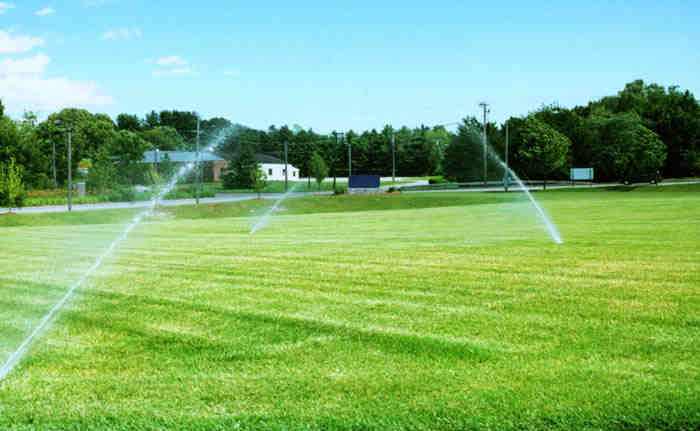 We generally get 40 or more inches of rainfall a year. Do we really need a sprinkler system?
If it rained at your house every three days the same exact amount each time you probably would not need a sprinkler system. But nature does not work that way, and the only way to ensure healthy, lush growth is to make certain your lawn and plants receive a regularly timed, evenly measured amount of water. In the dry season when there is little or no rain, your yard can suffer damage after just a few days without water.

Can I save money by installing my own system?
No! In fact, it could cost you more money in the long run.

Will I have difficulty operating this system?
Your contractor will explain to you how your controller works and how the watering times have been set. Then if necessary, the watering times can be adjusted by following the instructions on the inside of the controller cabinet. And that is it; the system does the rest for you.
Hopefully, some of your questions have been answered. If there are any problems or concerns you may have call or email me.  

Specification Sheet
Once the customer has reviewed the submitted estimate and a 50 % job deposit is received to schedule and confirm the installation. Dig Safe is called to mark and identify any utilities, cable, phone, gas, and electric lines. Any installed underground wiring for lighting, invisible dog fencing, underground pool lines and any other owner / builder installed items must all be clearly marked and identified by the homeowner to prevent any damage during installation.

Our plumber will then install the backflow and all necessary plumbing lines as specified by state and local codes. We handle and pull all necessary plumbing permits. System lines and piping is then laid into the ground along with necessary irrigation rotary heads and mist heads for planting beds or small lawn areas. Zone valves and valve housings are installed, master clock / controller is then installed in the basement or a suitable alternative location and wired to zone valves with an accompanying rain sensor.
The entire installation process should take approximately one full day from start to finish barring any unforeseen circumstances such as buried rock ledge or other buried material not visible.
The only maintenance that will be required for the system is in the spring and late fall. In the spring we will be turning on the water supply lines, programming the clock / controller, inspecting the system, fittings, and ensuring the system is functioning properly.
In the fall the water supply lines are closed and any water within the system is drained and compressed air is used to blow out any residual water. This will prevent any water from freezing in the lines.
Service prices vary with each system and size and will be outlined in your estimate.
We must strictly enforce this due to the vast majority of so-called landscaping and irrigation companies in this area who are not qualified or certified to install or service irrigation systems. Not to mention many companies are not even carrying company liability or worker compensation policies on their workers, shielding the home owner from the possibility of being held liable should a worker be injured on the respective home owner's property. (Always ask for certification)
For some customers that are on town water and town sewerage you have the additional option of having a deduct meter installed (some towns refer to this as a by-pass meter). The meter measures the amount of water used by the irrigation system and is either credited to your respective home's water bill or deducted from your sewerage bill.
The only requirement for the home owner is going to your local town's water dept. as some towns require home owners to pay either a fee or deposit for the respective meter and installation, the current fee averages $225.00 Your particular town's water department will then schedule a time for them to install and wire the meter.
The scheduling for the installation of the meter normally occurs within 3-5 business days. In the meantime your system will still function normally and no adjustments will be necessary after the meter is installed.
Local towns water Dept. numbers:
Haverhill (978) 374-2385
N Andover (978) 688-9571
Andover (978) 794-3222
Methuen (978) 623-8350
Salem N.H. (603) 890-2171
Payment of balance is due in full upon completion of system installation. All system materials and related installed equipment will remain sole property of Tompkins Landscaping and Irrigation contractors until payment in full is received or alternative payment arraignments are made.
Tompkins Landscape and Irrigation is not responsible for any unforeseen circumstances beyond our control i.e.: excessive water pressure, water hammer, tree roots, rock ledge / boulders in the ground, builders fill and /or debris buried on site, This estimate is valid for 30 days after submission to customer.
Again if you have any questions feel free to contact us at any time using our 24-hour line.
We hope you find this packet informative and we look forward to working with in the months to come.
---
Hopefully, some of your questions have been answered. If there are any problems or concerns you may call or email me.
FAQs

Deciding whether or not to install an irrigation system can be a difficult decision to make. Hopefully with these answers to frequently asked questions from Rain Bird, one of the leaders in irrigation systems, you will be more comfortable with your decision. More...

Specifications

We ensure our customer's a quality product installed by trained individuals who are skilled and knowledgeable in irrigation installation and system design requirements. More...

Conservation

Tired of wasting your time and money? Have you ever considered an inground sprinkler system? Tompkins Lanscape and Irrigation is this area's leader in installation of all types of irrigation systems. More...

Evaluating Landscapers

It seems many of you are interested in irrigation but are uncertain as of how we install the system and how this is going to effect your existing landscape. More...

Gallery

Irrigation projects have ranged from expanding existing systems and installing new residential networks, to building complex commercial landscaping irrigation projects. More...

Example

View an actual project being built. More...
---
Towns Served:
Salem Massachusetts, Lawrence Massachusetts, Andover Massachusetts, Lowell Massachusetts, North Andover Massachusetts, Haverhill Massachusetts, Methuen Massachusetts, Amesbury Massachusetts
Top Products Sold:
rainbird sprinklers, orbit sprinklers, orbit irrigation, toro irrigation, river rock landscaping, toro sprinklers, rain bird sprinklers, pivot irrigation, gifford hill pivot irrigation sprinkler, orbit lawn sprinklers, toro lawn sprinklers resources, toro underground sprinklers, champion sprinklers, rainbird 5000 plus sprinklers, tyco sprinklers, rainjet sprinklers, toro lawn sprinklers, moody sprinklers, adjust rainbird 5000 sprinklers, asco sprinklers, brass sprinklers rainbird
Landscaping Ideas:
landscaping ideas, front yard landscaping ideas, backyard landscaping ideas, landscaping pictures, landscaping plans, landscaping design websites, landscaping designs, pictures of front yard landscaping, landscaping plant guide, landscaping photos, lawn maintenance schedule, backyard patio landscaping design, beautiful landscaping, pictures of landscaping, free landscaping ideas designs, landscaping article, how does irrigation work
Landscaping Services:
landscaping, sprinklers, irrigation supplies, irrigation, drip irrigation, irrigation controllers, lawn sprinklers, landscaping yards, front yard landscaping, landscaping stone, irrigation systems, landscaping with rocks, playgrounds with landscaping, lawn & irrigation sprinklers, landscaping gravel, steep hill landscaping, drip irrigation systems, landscape maintenance, irrigation system, landscape services, landscaping plants, backyard landscaping, irrigation equipment, pool landscaping
Category- Irrigation Company
^ Back to Top